In July the World Health Organisation (WHO) held at its domicile in Geneva the third global meeting on programme on prevention of deafness and hearing loss treatment programme. The World Health Organisation announced the establishment of the World Hearing Forum (WHF), an alliance between the UN agencies, governments, scientists, NGOs and private entrepreneurs aimed at intensification of actions aimed at hearing care promotion. This international organisational and scientific support of unprecedented scale and range is highly important for devising subsequent actions, programmes and projects aimed at global health promotion in cooperation with with various continental, regional and local institutions.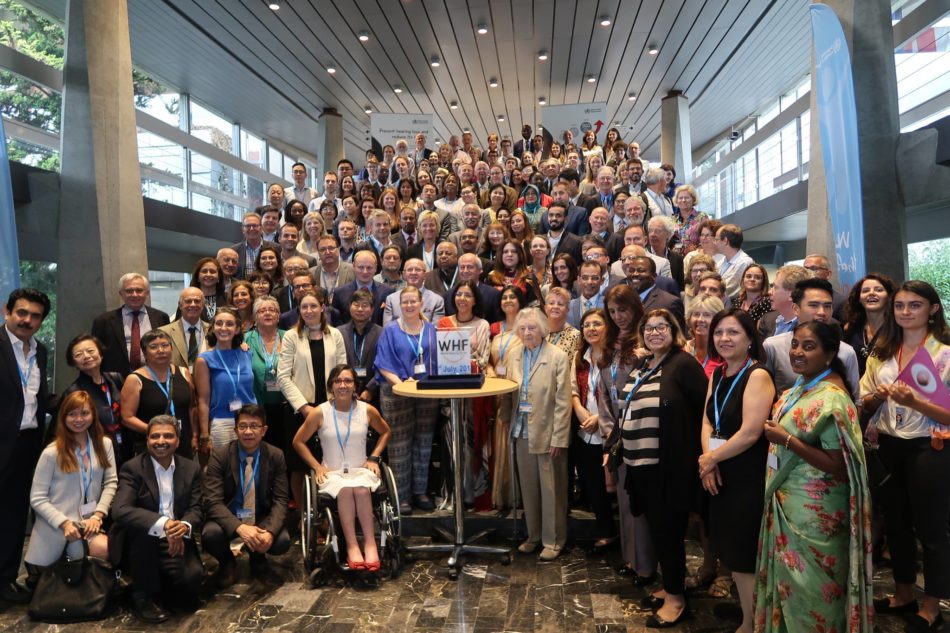 Professor Henryk Skarżyński MD, PhD, Dr h.c. (mult), who represented the World Hearing Center, a global leader in treatment of hearing impairments and hearing restoration surgeries for 15 years already, and the International Editors Committee of the Journal of Hearing Science, acting as the WHF Member, pointed out to the importance of early medical interventions and diagnostics of hearing impairments. Based on a vast body of clinical and scientific evidence he presented the Forum with globally recognised scientific findings of the "Polish otology school" which allow making new target patient groups with various types of congenital or acquired hearing loss for eligible for treatment.
According to the WHO's estimates, ca. 466 million people all over the world suffer from major hearing loss, while ca. 500 million experience other types of hearing impairments affecting their daily lives. In the coming years these numbers are likely to increase substantially. In keeping with the WHO's calculations the total global costs generated by the still unsolved problem of hearing loss amount to USD 750 billion per year. Hence, some preventive measures need be taken, not only globally, but mostly at continental, national and local levels.
The WHO focuses on the prevalence of hearing impairments and consequences of the lack of treatment, indicating solutions that could help to minimise such problems and encouraging governments and competent institution to take actions aimed at improving diagnostics and treatment of hearing impairments for e.g. by implementing effective and economically viable screening tests and using state-of-the art technologies and e-health tools. At the same time, the WHO also highlights the importance of education, prevention, monitoring and active commitment of patients.
Members of the alliance have also pointed out to the social aspects of communication disorders and their impact on the proper intellectual and emotional development, which may, in turn, affect one's social and economic situation.
Hearing impairments are nowadays regarded as civilization-related diseases. It is widely acknowledged that the properly functioning organ of hearing is an indispensable element of interpersonal communication and a pillar of contemporary information society. Therefore, hearing impairments are regarded as major development barriers, hindering the process of acquisition of linguistic skills and active participation in social life. Bearing in mind the enormous scale of the problem, actions focused on early diagnostics, therapy and rehabilitation of the aforementioned disabilities are indispensable.
– It is highly important for us to reach the patients, especially the senior ones aged 75 and more, out of whom three-quarters experience some kind of hearing loss, in order to help them stay capable of maintaining good communication with their surroundings for longer – says Professor Skarżyński.
The consensus around screening tests, hearing loss prevention and treatment of deafness forged among international representatives of the World Hearing Forum is an event of a great topical value. Such actions are also very significant for Poland. Professor Skarżyński quoted an example of a unique multi-specialist programme intended for prevention of civilization-related diseases"Health Comes First" implemented during the summer season across Poland. – Such large-scale preventive measures are one of the ways to promote healthy attitudes – explains Professor Skarżyński.
The idea of hearing screening tests is promoted by the members of the World Hearing Center's Institute of Physiology and Pathology of Hearing not only all over Europe, but also overseas. This applies, in particular, to developing countries with generally less developed healthcare and disease prevention systems, which can be the major beneficiaries of the knowledge, experience and best practices shared by the Polish specialists.
As a result of the cooperation with local institutions and healthcare centres, a number of hearing screening tests were carried out in such countries and regions as for e.g. in Moldova, Romania, Western Siberia, Ukraine, Tajikistan, Kyrgyzstan, Azerbaijan, Armenia, Senegal, Nigeria, Rwanda and Ivory Coast.
Over the last couple of years the World Hearing Center's Institute of Physiology and Pathology of Hearing has been consistently strengthening its cooperation with medical units based in Central Asia, Africa and South America. By far a number of bilateral scientific conferences have been held, and a number of otolaryngologists and audiologists representing such countries have had an chance to participate in conferences, courses and practical trainings hosted by the World Hearing Center in Kajetany.