'The good of the Republic of Poland is the highest law' – Professor Henryk Skarżyński received the Medal of the Senate of the Republic of Poland from Mr. Bogdan Borusewicz, Marshal of the Senate. Presenting the Medal, Marshal Borusewicz said that this award is the expression of the highest appreciation of the good that Prof. Skarżyński has brought to the development of Polish medicine. He added that thanks to Prof. Skarżyński's efforts Poland is at the forefront of countries maintaining programs of hearing screening for school children.
During the ceremony Prof. Skarżyński reminded that the World Hearing Center in Kajetany is the one of its kind facility in the world. The history of this place began 20 years ago, when the first in Poland (and second in Europe) Diagnostic-Treatment-Rehabilitation Center for the Deaf and Hearing Impaired 'Cochlear Center' was created. It laid the foundations for the Institute of Physiology and Pathology of Hearing established in 1996, and later for the International Center of Hearing and Speech opened in Kajetany near Warsaw in 2003. In 2012 this Center was significantly extended to create the World Hearing Center.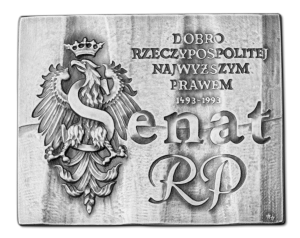 Prof. Skarżyński was the first surgeon in Poland to introduce cochlear implants (1992), brainstem implants (1998) and middle ear implants (2003). He is the author of the method of treatment of the partial deafness with cochlear implants (Partial Deafness Treatment PDT), that he implemented for the first time in the world in an adult patient in 2002, and in a child in 2004.
It is worth mentioning that the Medal of the Senate has been created for the 500th Anniversary of Polish Senate. It is awarded to the outstanding Poles for their beneficent  contributions to the country.