On the occasion of 25th anniversary of the first in Poland cochlear implantation, which had been performed by Prof. Henryk Skarżyński, we have received a unique gift from the Holy See. In a ceremony conducted in the World Hearing Center in Kajetany, the Bishop Rafał Markowski has conveyed the Apostolic Blessings of Pope Francis for Prof. Henryk Skarżyński and all employees of the Institute of Physiology and Pathology of Hearing.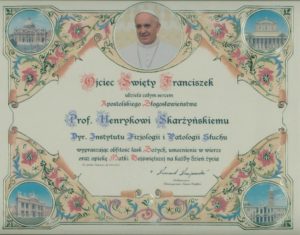 Bishop Rafał Markowski has lavished praise: Let my presence here be an expression of Polish Church for all the good that has been done in these 25 years of work of Professor Skarżyński and His Team. A tangible proof of appreciation is the Apostolic Blessing of Pope Francis, who is the Pope of compassion and from the start of his pontificate cultivates a unique sensitivity to all human needs, particularly for people touched with want: moral, physical, material. Pope Francis cares for those in need of compassion and calls us to be compassionate. This Blessing symbolizes his presence among us! Papal Blessing for Prof. Henryk Skarżyński is an expression of gratitude for his personality and medical achievements. For everything that you have in your heart, Professor. This World Hearing Center is a proof of your sensitivity.
Imparting the Apostolic Blessing to Prof. Henryk Skarżyński, Holy Father Francis asks for the plenty of Gods graces, strength in faith and care of Holy Mother of God for all days of his life.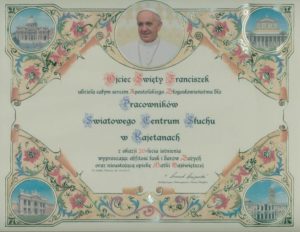 Imparting the Papal Blessing to the employees, Bishop Markowski emphasized that in each work are involved also people who have helped Prof. Henryk Skarżyński realize his dreams. – It is a team of wonderful people, present in this room, who identify themselves from professor and together work the good and compassion that Pope Francis is asking of us.
The Apostolic Blessing for the Employees of the World Hearing Center is also an expression of gratitude for their daily toil and help that they give to the needing. It is Pope's and Church's gratitude for compassion given to patients daily.