One of the priorities of Prof. Henryk Skarżyński and the Institute of Physiology and Pathology of Hearing under his management is the program of hearing screening in children at various ages. The team of the Institute in cooperation with numerous Polish and international centers has created the foundations for screening programs – developed the methods, procedures and equipment necessary for hearing screening. In previous years the Institute had been conducting hearing screening programs that have encompassed more than 1 million of children in primary schools in rural areas and small towns in Poland, a population of 7 and 12 year olds in Warsaw and many towns in Poland. They have shown that even as many as one child in 6 may have some kind of hearing-related problem.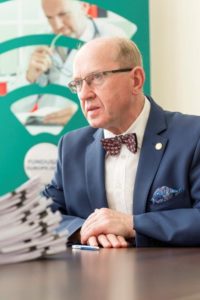 On 1 August 2017, the Institute has started new hearing screening programs, this time involving the entire Mazowsze region. It will be the first in the world region where hearing screening encompasses the whole population of children beginning school education. Screening will be organized under 37 projects under the framework of the Program of Hearing Screening for First Grade Pupils in Primary Schools in Mazowsze Region in years 2017/2018 and 2019/2020. Hearing examinations will cover over 81 thousand pupils and education activities will involve more than 67 thousand parents, guardians and school personnel.
The program will be implemented in 4 townships (Ostrołęka, Płock, Radom, Siedlce) and 33 districts (białobrzeski, kozienicki, radomski, zwoleński, gostyniński, płocki, sierpecki, makowski, ostrołęcki, przasnyski, wyszkowski, ciechanowski, mławski, płoński, pułtuski, łosicki, siedlecki, sokołowski, węgrowski, garwoliński, legionowski, miński, nowodworski, otwocki, wołomiński, grodziski, grójecki, piaseczyński, pruszkowski, sochaczewski, warszawski zachodni, żyrardowski). It will commence already this year.
The ceremony of signing the agreement took place in the Mazovian Unit of EU Programmes Implementation on 20 July 2017. On behalf of the Institute of Physiology and Pathology of Hearing the agreements have been signed by Prof. Henryk  Skarżyński; the Mazovian Voivodship Council represented Ms. Elżbieta Szymanik – Vice-Director for European Structural Funds in the Mazovian Unit of EU Programmes Implementation.
Hearing screening programs are a perfect example of broad approach to prevention and early detection of dysfunctions affecting child's development and everyday communication with its environment. It is an important problem and many years' work and achievements of Institute's team are noticed and appreciated in Europe. The topic 'Equal education opportunities for children with communication disorders', submitted and coordinated by Prof. Henryk Skarżyński in collaboration with the Department of Mother and Child in the Ministry of Health, has been adopted as a public health priority of Polish Presidency of the EU Council. During the half year of Polish presidency, specialists from the Institute have been successful in drawing the attention of politicians and representatives of EU member countries and institutions to the scale of problems with hearing, vision and speech among the children in Europe, consequences of failing to treat these disorders and to show the solutions that allow reducing these problems. As the most effective have been shown universal screening programs in pre-school and school children. The effect of Institute's work and negotiations conducted during the presidency has been the adoption of the EU Council Conclusions on Early detection and Treatment of Communication Disorders in Children, including the Use of e-Health Tools and Innovative Solutions. It has been adopted by Ministers of health of all EU member countries at the EPSCO meeting in Brussels. It has been a keynote event concluding the activities implements during Poland's EU Council Presidency with regard to ensuring the equal opportunities for children with communication disorders, in integral part of the priority in the field of public health.
The preceding programs have shown that even one in 5-6 children may have different kind of hearing-related problems that may have a significant impact on its development and education. It is a disturbing constatation that 60% of parent of pupils, in whom hearing impairment was detected, did not suspect that their child may have a problem with hearing. Results of these programs have confirmed the enormous rate of incidence of hearing dysfunction in school children and necessity of conducting hearing screening programs.
Hearing disorders in young children have crucial impact on their development and educational success. The results obtained in earlier programs confirm the large scale of hearing disorders in school age children. Statistically, a child with severe hearing loss has three times worse at school than its normally hearing peers. Early detection of hearing disorders in children is crucial for implementation of the early intervention program aimed at improvement of communication process. Early medical intervention in a child with hearing disorders regardless of their etiology means faster improvement of its auditory pathway functions and thus better communication with the environment as well as reduction of costs for the patient and for the healthcare system.