On 17 November 2017, in the center Congress Innsbruck took place the great Jubilee Life Award Gala. It has been the tenth time already then the individuals and institutions that break the barriers have been honored this way. The Life Awards promote the vision of the society where equal rights and opportunities are not only a slogan, but a reality. One of the winners this year was Małgorzata Strycharz – Dudziak, patient of Prof. Henryk Skarżyński, awarded in the category 'culture and art'.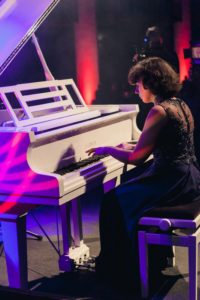 Małgorzata Strycharz-Dudziak MD, PhD, had been performing during many events and celebrations in the Institute of Physiology and Pathology of Hearing. It has been one of her performances that have inspired Prof. Henryk Skarżyński to organize the International Music Festival for Children, Youths and Adults with Hearing Disorders 'Beats of Cochlea' – a music festival for people, who owe to the medicine the chance to pursue their passions. Małgorzata is 39 years old, she is a stomatologist and academic teacher at the Medical University in Lublin, but the music has been her love from the earliest childhood. She had been a music school student in a piano class when, at the age of 13 years, she lost hearing completely in one ear and partially in the other. Two years later she was completely deaf. After two surgeries performed by Prof. Henryk Skarżyński (in 1994 and 2007) she is now a bilateral user of cochlear implants. She has come back to the world of sounds and to playing piano. Today, she is not involved with music in a professional sense, but she plays for her own pleasure and satisfaction.
The other winners of Life Awards this year have been  Claudia Lösch in the category 'Sport', Alois Praschberger in the category 'Economy', Florian Sitzmann – special Award and hotel 'aDLERS' in the category 'Services without barriers'.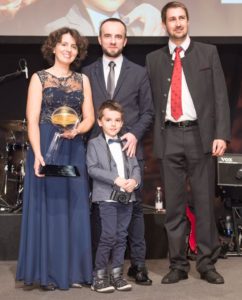 The Awards presented to Polish pianist Małgorzata Strycharz-Dudziak and German sportsman and writer Florian Sitzmann attest to the European range achieved by the Life Award, as emphasized in his address the President of Austria Dr. Alexander Van der Bellen.
– On this festive evening our attention is focused on people, who deserve the highest respect of the society – said Ingrid Larese, the author of the idea of Life Award.
The Life Award gala dinner was a superlative event, with music provided by the Wilten city orchestra, menu prepared by the German celebrity cook Stefan Marquard decorated with a Michelin star, and hosted by the exquisite Alfons Haider. Among the guests there were numerous personages, such as the President of the Tirol Trade Chamber Dr. Jürgen Bodenseer, member of the Federal Council Ms. Christine Baur, City Councillor Franz Xavera Gruber, or Ingeborg Hochmair, CEO of the MED-EL company.