On 5 October 2019, the Szlakiem Tęczy Society celebrated its 10th anniversary at the Cultural Centre in Nadarzyn (Nadarzyński Ośrodek Kultury). On that occasion, the donors, collaborators and, above all, the friends of the Society were presented with commemorative statuettes. The symbolic "golden heart" was awarded, among others, to Prof. Henryk Skarżyński, who was recognised for his many years of work to help his deaf and hard-of-hearing patients, including those under the care of the Society.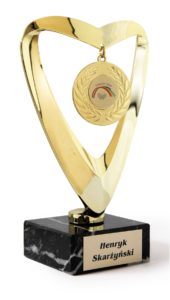 The main goal of the Society is to promote equal social chances for children and adults with disability and ensure that their human and citizens' rights are respected. The founders  implement this goal through specific activities aimed at integrating persons with disability and their families with social life by organising various activities, workshops and integration meetings.
It is worth reminding that providing equal chances for children with communication disorders has for years been part of the mission of the Institute of Physiology and Pathology of Hearing led by Prof. Henryk Skarżyński. One of the priority activities of the team of specialists from the Institute is a hearing screening programme covering children at different ages.
Screening is an excellent example of comprehensive thinking about early prevention and detection of various diseases that affect the development of a human being and his/her everyday communication with his/her environment. An example of specific actions initiated and coordinated by Prof. H. Skarżyński, so important for the Polish science and medicine, was the programme "Providing equal chances for children with communication disorders in European countries." This issue was included as the priority of the Polish Presidency in the EU in 2011. The professor was the main initiator of the signing of two European consensus statements: on Hearing Screening in Pre-School and School-Age Children and on Hearing, Vision and Speech Screening in Pre-School and School-Age Children. As a result of these activities, carried out jointly with the Ministry of Health, in December 2011 the EU Parliament adopted the "Conclusion of the EU Council on early detection and treatment of communication disorders in children, including the use of e-Health tools and innovative solutions". Prof. H. Skarżyński also coordinates clinical and research projects with over 100  facilities in all the continents, including hearing screening in school-age children in Asia, Europe, Africa and South America.
These activities allowed hearing screening to cover over 1 million children starting school education in our country.