World Hearing Day, initiated by the World Health Organization (WHO), is celebrated on the 3rd March each year. This year's edition under the slogan "Don't let hearing loss limit you" is widespread, as it is estimated that around 466 million people worldwide are suffering from severe hearing loss, and more than 1 billion people have a variety of hearing disorders that affect their everyday communication. The overwhelming majority of them live in low- or middle-income countries where they have no access to necessary medical services. The WHO data also show that although on average 83% of the world's population should use hearing aids, they do not. If effective measures are not taken in the area of prevention and treatment, by 2050 the number of people with severe hearing loss will increase to over 900 million.
– The problem of hearing impairment has become a civilization disease  a long time ago – says Prof. Henryk Skarżyński, Director of the Institute of Physiology and Pathology of Hearing  – In the past hearing loss was considered a normal thing for a seventy-year old person, and it affects almost ¾ of the entire population at this age. Today's civilization development, pervasive noise, earphones, loud music since early childhood, as well as ototoxic and immunosuppressive drugs, circulatory or metabolic disorders make this threshold shift from the age of 70 to the age of 50. Fortunately, in Kajetany we can help almost every patient with hearing impairment – from a child to a centenarian. – adds Prof. H. Skarżyński.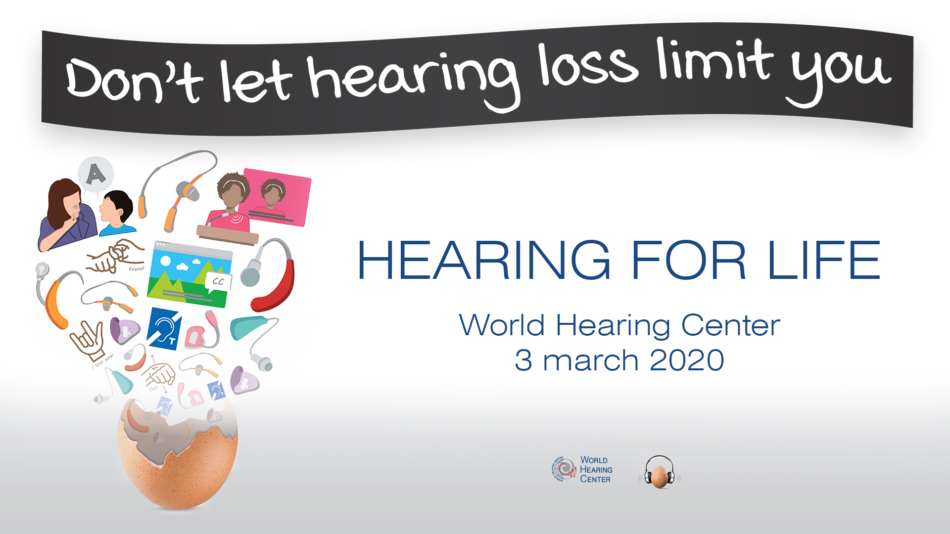 The main celebrations of the World Hearing Day are organized annually at the WHO headquarters in Geneva. In recent years, more and more Member States and partner agencies are joining World Hearing Day by organizing a number of activities and events in their countries. In Poland, the Institute of Physiology and Pathology of Hearing and the Institute of Sensory Organs actively joined the celebrations, organizing many clinical and scientific activities:
announced meeting of the international training community, patients and the Institute team at the World Hearing Center with the First Ladies of: Iceland – Ms. Eliza Reid and Poland – Ms. Agata Kornhauser-Duda;
56th edition of Window Approach Workshop (WAW) – unique on a global scale surgical and scientific workshops for specialists from around the world: otosurgeons, heads of the wards and clinic managers specializing in the treatment of deafness with hearing implants. Several dozen demonstration surgeries will take place on this day;
86th Academy of Otosurgery – training of national personnel for the purposes of diagnosis, treatment and rehabilitation of people with hearing disorders as part of postgraduate education program in Poland;
hearing screening tests conducted as part of open day by a team of the Institute of Physiology and Pathology of Hearing and the Institute of Sensory Organs in: West Pomeranian Center of Hearing and Speech in Szczecin, Subcarpathian Center of Hearing and Speech in Rzeszów, Silesian Center of Hearing and Speech in Katowice, Opolskie Center of Hearing and Speech  in Opole, Lesser Poland Center of Hearing and Speech  in Cracow, Warmian-Masurian  Center of Hearing and Speech  in Olsztyn, Pomeranian Center of Hearing and Speech  in Gdańsk, Kuyavian-Pomeranian Center of Hearing and Speech  in Ciechocinek;
Special lecture by Prof. Henryk Skarżyński entitled: "Impact of Hearing on the Development of Modern Society" at the Secretariat of the Polish Episcopacy for priests from all over Poland;
meeting with patients-artists participating in the "Broken Silence" Musical and screening of abridged film version of the "Beats of Cochlea" Festival;
open tests of hearing and other senses at the World Hearing Center using the latest technologies, e.g. Sensory Examination Capsule;
demonstration telefitting session showing the latest technological developments;
distribution of commemorative greeting cards for patients.
The key messages of the World Hearing Day 2020 are: easier access to modern solutions for the treatment of hearing defects and regular hearing tests that everyone should, especially those who are in the high-risk groups, e.g. adults over the age of 50, people working in noise conditions, listening to loud music for a long time and people having any kind of problems with their ears.
A great example of the use of the latest technological solutions is the series of the first implantation surgeries of an innovative active bone conduction implant BONEBRIDGE BCI 602, performed in Poland by Prof. Henryk Skarżyński and Prof. Piotr H. Skarżyński on the 27th February. These surgeries mark a start of a new stage in the treatment of various hearing disorders of the external and middle ear. The new implants offer an opportunity to improve hearing in many cases, including patients whose previous ear surgery failed to bring the expected hearing improvement. The biggest asset and advantage of the BONEBRIDGE BCI 602 implant is mainly  small size of the device with enhanced sound. The BCI 602 implant is dedicated to a wider group of patients whom, due to anatomical reasons (too thin bone, too small mastoid, other congenital deformities) or after previous surgeries, it was impossible to implant other devices. These surgeries confirm the fact that technological progress and our commitment to the latest global treatment programs for various hearing defects mean that Poles – as the first or one of the first in the world – have access to the latest technologies and methods of treatment.
Fun fact –  that World Hearing Day is celebrated every year on the 3rd March, because 3.3 resembles ear shape. Its objective is to raise awareness on how to prevent deafness and hearing loss and promote hearing care across the world.